Integrated Reporting (IR) in Accounting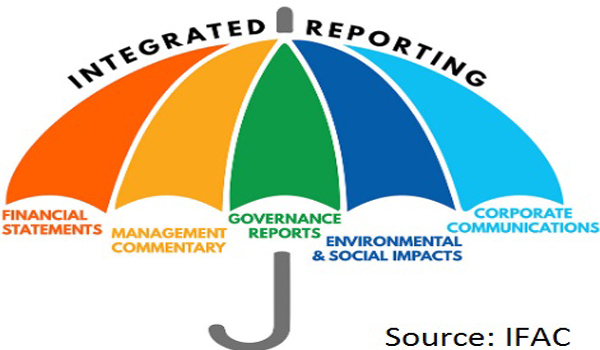 Intregrated Reporting (IR)
IIRC (2013) has prepared an IR Framework where there is description of definition, objective, importance, features, guiding principles, and contents elements of IR. Those are shown below briefly:
Definition of IR
An integrated report is a way of communication concisely regarding the entity's strategy, performance, governance, and prospects considering the external environment which will create value over time.
Objective of IR
The objectives of Integrated Reporting (IR) is to develop the quality of information offered by the suppliers of financial capital with a view to facilitating effective and fruitful capital allocation.
Importance of IR
IR is essential to enhance a more connective and effective method to corporate reporting that significantly impact the capacity to build value over time for an entity. IR tries to exchange the full range of issues in corporate reporting. IR is useful to improve stewardship and responsibility for the extensive base of capitals (financial, natural, manufactured, human, intellectual, and social relationship) and develop understanding of their interdependencies. It emphasize on the construction of value over the short, medium and long term through integrated thinking, decision-making and actions.
Features of IR
IR helps an entity to increase ability for value creation through emphasizing on integrated thinking, strategic focus, conciseness, and future orientation, the connectivity of information and the capitals and their interdependencies.
IR creates value for customers, employees, business partners, suppliers, local communities, regulators, legislators, and policy-makers.
IR is a principles-based method which has a purpose to ensure proper balance between flexibility and prescription. It enables an adequate level of organizational comparability to provide required relevant information.
IR does not suggest precise measurement methods, key performance indicators, or the disclosure of individual matters rather it comprise a short requirements in reporting.
Integrated report offer insight about the capitals (resources and relationships) of an organization.
Content Elements of IR
There are eight interrelated content elements of Integrated Reporting. They are:
1. Organizational overview and external environment: Showing organizational activities and surrounding environment in which it operates.
2. Governance: Showing the structure of governance structure
3. Business model: Showing the business model
4. Risks and opportunities: Showing the risks and opportunities which impact the entity's ability in creating value over time.
5. Strategy and resource allocation: Showing the source of resource and the basis of allocation of the resource
6. Performance: Showing the performance level considering the objectives of the entity
7. Outlook: Showing the challenges and uncertainties for implementing strategy and implications in achieving future performance
8. Basis of presentation: How does the organization determine what matters to include in the integrated report and how are such matters quantified or evaluated?

Name: Md. Azim
Business Administration Department
25 March, 2019
---