About Business Administration
About Business Administration
The World School of Business is an academic member of the Association to Advance Collegiate Schools of Business (AACSB International) and candidate for accreditation for the Accreditation Council for Business Schools and Programs (ACBSP).
The World School of Business started functioning from the inception of the university with the mission of offering high quality business courses with a view to creating ethically and morally responsible future business leaders with the ability of strategic thinking, problem solving, critical analysis, and efficient communication. Accordingly, the Academic Programs of the Department viz., BBA, and MBA are run by a group of experienced and renowned academicians. The Department considers several factors as Key Performance Indicators (KPIs). These include student enrollment, student dropout, employment rate, number of thesis and publications, and faculty-student ratio. The department has a good record of graduate employment. Faculties and students publish different research works regularly in various national and international journals.
The Department regularly gathers information from the stakeholders and accordingly considers curriculum modification and readjustment. It has standard curriculum for under graduate (BBA) and graduate program (MBA) approved by the University Grants Commission (UGC) of Bangladesh. Curriculum Review is a continuous and regular process which is done by the suggestions of the stakeholders (UGC, Employers, Alumni, Experts, Existing students' opinion etc.) and the Faculty.
About WUB
World University of Bangladesh (WUB) established under the private University Act, 1992 (amended in 1998), approved and recognized by the Ministry of Education, Government of the People's Republic of Bangladesh and the University Grants Commission (UGC) of Bangladesh is a leading university for utilitarian education. The University is governed by a board of trustees constituted as per private universities Act 2010 which is a non-profit making concern. The university is a member of the Association of Private Universities in Bangladesh, Association of Common Wealth Universities and Quality Assurance & Improvement Council and appears in the worldwide listing of universities by the UNESCO.
Although the formal approval to start operation of the World University of Bangladesh was received on February 26, 2003, the ground work for the university began in early part of 2000, Now the university on entering its 10th year of operation has all needed infrastructural facilities and highly qualified teachers in its 3 faculties and 11 departments with 24 programs at day and evening.
World University of Bangladesh is destined to provide utilitarian education for economic emancipation without undermining the national ideals and aspirations and is authorized to offer courses and award degrees, diplomas, certificates on its own. At present it has credit transfer arrangements and academic collaborations with some universities in UK, USA, Australia and the Caribbean.
The university had its first convocation on 28th October 2008, where 782 students received degree from the Hon'ble President of People's Republic of Bangladesh and Chancellor of World University of Bangladesh. (also see our website: www.wub.edu.bd). As many as 2300 students are now ready for conferment of degrees in the up-coming convocation. None of its degree holders is unemployed implying its emphasis on quality education with utilitarian bent.
This university is the pioneer in introducing degree programs for the Diploma Engineers; B.Sc. in Mechatronics Engineering (MTE) & Master of Business Education (MBE) in this part of the world. The MTE program also known as electro-Mechanical engineering in few western countries is a synergistic combination of a number of basic engineering and administrative courses. As such, it is a highly demanding course at home and abroad. The MBE program is meant for people destined to make career in teaching of business related subjects and for those willing to make a career in practical business world in short span of time. We have few Institutes and various types of collaboration programs. All of our programs are approved by the UGC. We publish some journals which have earned appreciation at home and abroad.
Vision
To be the center of excellence in business arena to create successful business leaders
Mission
To offer high quality business courses with a view to creating ethically and morally responsible future business leaders with the ability of strategic thinking, problem solving, critical analysis, and efficient communication.
Goals
To achieve quality standards to get world rankings of universities
To develop IT infrastructures to ensuring blended teaching learning facilities
To increase number of PhD holders in the faculty
To introduce exchange program with foreign universities
To introduce specialized degree programs keeping in line with job market demand.
To introduce professional certificate courses.
To collaborate with industry to ensure job for graduates.
To enable the graduates to progress to senior management positions in business management and operations where specialist knowledge can be used.
Encouraging students in participating at national and international competitions.
Objectives
To achieve accreditation of ACBSP and AACSB within 2 years
To arrange regular programs for ensuring strong connection among alumni
To establish online systems for payment and exam results for the students.
To arrange 3 workshops, 3 seminars, 3 trainings, and 1 job fair per year
Achieving 95% student retention rate.
To increase employment rate upto 95%.
To ensure that each faculty member publishes at least one research paper in indexed journals (i.e., SCOPUS)
To arrange at least one industrial visit each semester for gaining practical knowledge as well as exploring employment opportunities.
To create a database of alumni working in different organizations and doing own business as entrepreneurs within 2019.
To sign MoU with at least two foreign universities per year.
To introducing new degrees such as MSc. in Banking & Finance, MSc. in Entrepreneurship, MSc. in International Business, MSc. in Logistics Management within 2023.
To introduce short course such as Lean Six Sigma, SPSS, Export Formalities, Finance for non-financial manager, Risk Management in Finance and Banking, Advertising and Graphics, Accounting for non-accountants.
Labs Facilities
Well-equipped class rooms and state of the art labs and modern teaching aids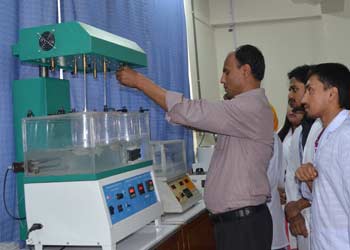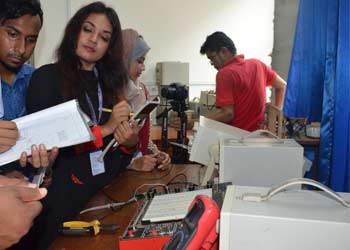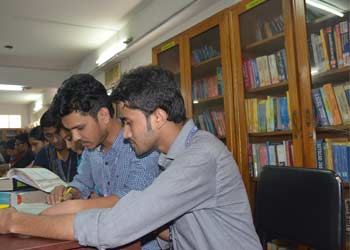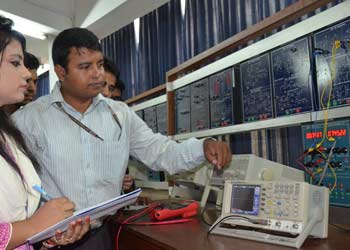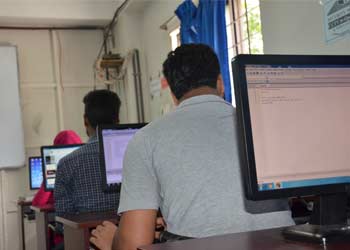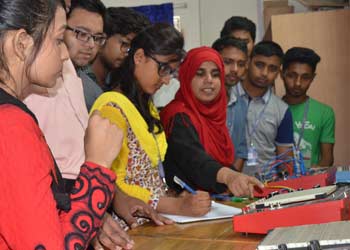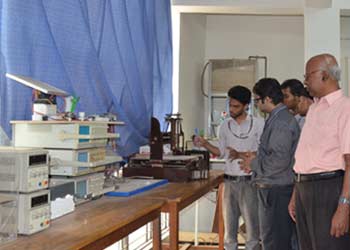 WUB Lab Pictures
Others Facilities
Faculty members provide blended teaching learning through e-learning platform.
100% full time faculty members.
Qualified faculty members (Ph.D, M.Phil, Foreign Degrees)
Counseling system for students.
Teachers are dedicated, co-operative, and friendly.
Curriculum is reviewed periodically by skill mapping technique and focusing the need of the job market.
Membership with ACBSP and AACSB
Affordable tuition fee.
Exchange programs with some renowned foreign universities.
Scholarship for poor and meritorious students.
Attractive campus locations with magnificent permanent campus.
The ratio of undergraduate student and teacher is 25:1.
Sufficient & well equipped classrooms, library, library ICT facility, Internet facilities, and competent manpower.
The department maintains students' progress documents and offers appropriate support.
Faculty members publish research articles regularly in peer reviewed journals.
Teachers encourage and prepare students for engagement in research.