Workshop held on "CV Writing and Job Interview"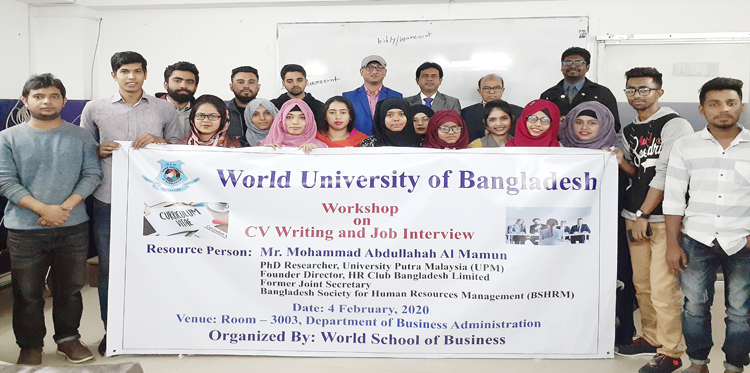 World School of Business organized a workshop on "CV Writing and Job Interview" on 4th February, 2020 (Tuesday) in the city campus of World University of Bangladesh.
The key resource person of the workshop was Mr. M. Abdullah Al Mamun, PhD Fellow, Dept. of Management & Marketing, Universiti Putra Malaysia (UPM), Malaysia, Founder Director at HR Club Bangladesh Limited, Life Fellow & Ex-Joint Secretary at Bangladesh Society for Human Resources Management, and Professional Member at Society for Human Resource Management (SHRM).
The other resource persons were Mr. Mahbub Amin Nahiyan, President at Federation of Hospitality, Tourism & Event Management, President at Bangladesh Debate Warriors, and Sagar Khalasi, Community Program Manager, Kormo of Google.
Mr. M. Abdullah Al Mamun informed the audience that CV/Resume should be written according to the requirement of a job circular. He showed the contents of Resume or CV to the students. Students should add formal email address and minimum two contact numbers in the CV. The possible contents of CV are Career Objective, Date of Birth, Education (the last one should be written first), Project Works, Experiences/ Internship/ Part-Time Job, Training/Seminar/Workshop, Special Interests/Extracurricular Activities/Co-Curricular Activities/ Service Activities, Computer Skills, Language Skills, Personal Information, Special Results, Special Achievements, Minimum Two References, Signature with date, etc. He informed some important points which should be remembered while writing CV or Resume. Those are: The candidates have to give clue in the CV or Resume for asking questions during interview, Generally HR manager checks the CV only 20-30 seconds, CV or Resume should be 2-3 pages, Major information should be on the first page, Don't photocopy or re-print the CV or Resume, Don't take computer print of the picture.
After showing CV or Resume format, Mr. Mamun discussed about Job Interview. He instructed to avoid common mistakes in interview: Dressing inappropriately, Arriving late, Bringing a drink with you, Using your phone during the interview, Not knowing anything about the company, Fuzzy resume facts, Not paying attention, Talking too much, Not being prepared to answer questions, Badmouthing about past employers.
He also informed about 10 interview skills that will help in getting hired: 1. Preparation, 2. Punctuality, 3. Thinking before speaking, 4. Speaking clearly, cohesively, and calmly, 5. Being confident, not arrogant, 6. Listening attentively, 7. Expressing optimism, with words and body language, 8. Showing interest without desperation, 9. Knowing more than your elevator pitch, and 10. Expressing gratitude.
He informed the top 10 interview questions: 1. Tell about yourself, 2. What is your greatest strength? 3. What is your greatest weakness? 4. Why should we hire you? 5. How do you handle stress and pressure? 6. Describe a difficult works situation/project and how did you overcome it? 7. What are your goals for the future? 8. Why do you want this job? 9. What are your salary expectations? 10. Do you have any questions?
05 February, 2020
---