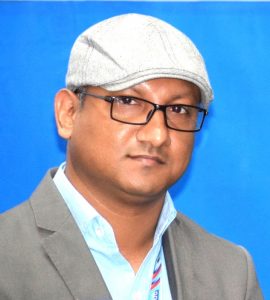 Dr. Selim Ahmed
DR. SELIM AHMED
( Ph.D. in Business Administration, International Islamic University Malaysia)
HEAD OF THE DEPARTMENT
BUSINESS ADMINISTRATION DEPARTMENT
The World School of Business started functioning from the inception of the World University of Bangladesh (WUB) with the mission of offering high quality business courses with a view to creating ethically and morally responsible future business leaders with the ability of strategic thinking, problem solving, critical analysis, and efficient communication. Accordingly, our academic programs such as BBA and MBA are running by a group of experienced and renowned academicians. We consider several factors as Key Performance Indicators (KPIs). These include student enrollment, student dropout, employment rate, number of thesis and publications, and faculty-student ratio. Our school has a good record of graduate employment. More than 60% of the students get job within one year of degree completion. Faculties and students publish different research works regularly in various national and international journals.
We regularly gather information from the stakeholders and accordingly consider curriculum modification and readjustment. We have standard syllabus for our undergraduate (BBA) and graduate program (MBA) approved by the University Grants Commission (UGC) of Bangladesh. Our course curriculum continuously reviewed based on the suggestions of the stakeholders such as UGC, employers, alumni, experts, existing students and faculty members.
In our business school, we are following different teaching methods to enhance knowledge of our students. Our school strictly follows the lesson plan for each course offered. Lecture by teacher is the mostly used technique in which sometimes students take notes from the lecture. During the class, in most cases, PowerPoint slides are used to demonstrate the key points of lecture to the students. Sometimes class discussion is also evident where the students and the teachers collaborate.
We are providing well-equipped and modern classrooms where our students can find world class academic environment. Size of the classroom is arranged according to the number of students and all classrooms are air conditioned. Often multimedia projectors are also used by teachers in their classes. Proper library facilities are available for our students and we have English Language Lab to increase their English proficiency. In order to enhance sophisticated knowledge related to IT, computer based lab facilities are provided to all the students of this department.
Our business school provides the students stimulus for maximizing their skills, talents and abilities toward achievement of their visions. Most of our co-curricular and extracurricular activities are jointly arranged by the university authority and the department concerned. Moreover, we offers a variety of career development assistance which includes career assessments, choosing a major, writing C.V, graduate school advising, employment referrals, professional etiquette and mock interviews.
Currently the World School of Business is pursuing blended learning system along with pedagogy and andragogy outcome based learning methods. This system is related with research in order to discover new business knowledge to enhance students' skills and understanding. We have a research unit which encourages the faculty members to produce good quality research paper and apply it in their respective classes. Our business school is committed to continue its efforts to increase business research so that it can contribute for the sustainable development of the country.
The World School of Business is the member of ACBSP and AACSB. We have collaboration with many universities in different countries. Recently, we organized various events to enhance our students' knowledge such as "How to Build Successful Career in the Global Marketplace", "Pursue Your Dream Career: Discover the Secrets of Entrepreneurship", "Effective Time Management for Students", "How to be a good entrepreneur and get rich, stay rich and be happy", "A brief introduction to the concepts and use of Lean Six Sigma" Venture Capital for Entrepreneurs", "Stress Management", and "Digital Marketing". In addition, World School of Business organized some extra ordinary study tours to refresh students' mind such as "Shillong a beauty queen of Meghalaya", India, "Panam City, Sonargaon, Narayanganj", " Baliati Jaminder Bari, Manikganj", "Bangabandhu Sheikh Mujib Safari Park, Gazipur", "Creative Style Wear Limited", and "Grameen Phone House". Apart from the student activities, we have agreement with some organizations such Memorandum of understanding (MoU) signed with Minister Hi-Tech Park & MyOne Electronics Industries Ltd and Regency Hospitality Training Institute (a sister concern of Dhaka Regency Hotel & Resort) to create job opportunity for the graduates after their graduation.
Furthermore, our students participated in different events in national level and they became successful such as winners in the ACE -1st International Education & Cultural Carnival Bangladesh held on November 29-30, 2017 at Daffodil International University and also in the Business Innovation Summit 2018, reached to top ten among 900 teams from whole Bangladesh. Through our student various achievement, we formed WUB Business Club, WUB Entrepreneurship Club and WUB Tourism and Hospitality Management Club for betterment of the student engagement and various university activities by using their theoretical innovative knowledge and their implication in pragmatic university life.
As a head of the World School of Business, I would like to express my appreciation to the members of my academic and administrative staff teams that have served our business school with passion. May God give all of us strength to make our vision and mission in reality.