Webinar on "Role of Lean Six Sigma to Enhance the Business Performance"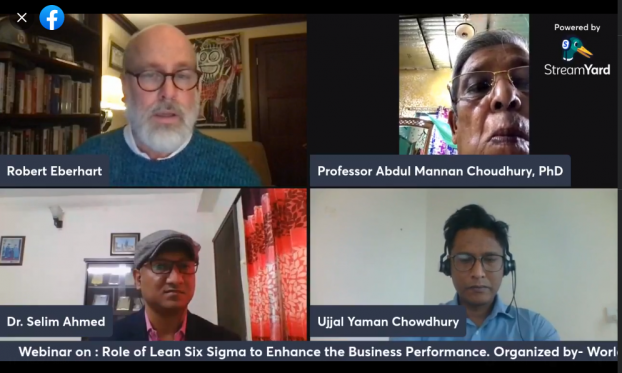 The World School of Business organized a webinar on "Role of Lean Six Sigma to Enhance the Business Performance" on 5th March 2022 at 11 am (BST). In this session, the Chief Guest was Professor Dr. Abdul Mannan Choudhury, Vice-Chancellor, World University of Bangladesh and the speaker was Prof. Dr. Robert N. Eberhart, Associate Director, Research on Entrepreneurship and Society, Stanford University, USA. The session chair was Dr. Selim Ahmed, Associate Professor & Head of World School of Business, and Mr. Ujjal Yaman Chowdhury, Assistant Professor, Department of Business Administration was the moderator. The event was held in a live stream through the official Facebook page of the World University of Bangladesh.
The speaker said that the application of six sigma is essential for industrial control. When the industrial process is unusual i.e., away from the expected standard (away from six sigma), then we need to adjust. This same principle can be applied in all types of industrial processes. The concept of six sigma deviation for statistical process control in manufacturing companies is also part of the academic concept PDCA (PLAN, DO, CHECK, ACT) cycle. Alternative it is also known as the DMAIC model.  DMAIC is a strategy for Six Sigma, used to increase the quality of outputs that business processes produce. The letters DMAIC are short for: Define, Measure, Analyze, Improve, and Control.
05 March, 2022
---
A PHP Error was encountered

Severity: Notice

Message: Trying to access array offset on value of type null

Filename: frontend/activities_details.php

Line Number: 42

Backtrace:

File: /var/www/html/wub.edu.bd/business/application/views/frontend/activities_details.php
Line: 42
Function: _error_handler

File: /var/www/html/wub.edu.bd/business/application/core/MY_Controller.php
Line: 21
Function: view

File: /var/www/html/wub.edu.bd/business/application/controllers/Main.php
Line: 543
Function: layout

File: /var/www/html/wub.edu.bd/business/index.php
Line: 315
Function: require_once